I scream, you scream, we all scream for ice cream… week!
The resources we used this week were…
Songs:
Videos:
Monday:
We got
Wemberly's Ice-cream Star
by Kevin Henkes,
Ice-cream Cones for Sale!
by Elaine Greenstein, and
Ice Cream: the Full Scoop
by Gail Gibbons from the library this week.
We practiced saying the letter name and sound, and then worked on the ice cream mosaic for her alphabet book.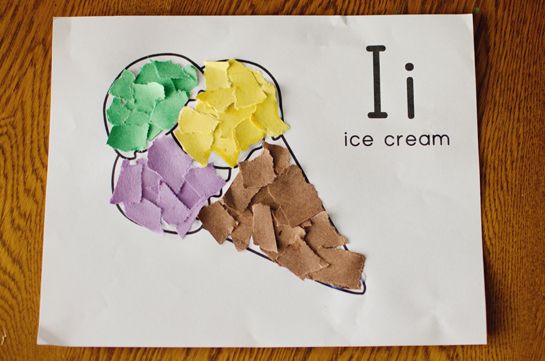 Tuesday:
I came up with a little ice cream cone printable so that Sadie could practice her counting this week. We looked at the number on the cone, said it out loud, and then counted out the number of pompom "sprinkles." Sadie glued the sprinkles onto the ice cream. I hung the ice cream cones up at Sadie's level so that she could practice counting all week.
Wednesday:
On Wednesday we made puffy paint, and Sadie painted an ice cream cone. To make the puffy paint, I just mixed equal parts white school glue and shaving cream. Sadie wanted pink ice cream, so I mixed in a drop of pink paint. I made a cone out of brown paper, glued it to a sheet of cardstock, and then Sadie painted the ice cream on top of it. Her ice cream cone turned out a little... melty.
Make sure to use a thick piece of paper like cardstock for this activity, as the puffy paint makes the paper soggy. The puffy paint should be thick and able to keep its shape while painting. The paint takes 12-24 hours to dry and harden completely.
Thursday:
We had ice cream for lunch on Thursday! I'm all about Sadie getting her food groups in, and I want her to grow healthy and strong. But, every once in a while you have to kick the food pyramid to the curb and have a little fun. Sadie chose chocolate, and we savored every bite.
Friday:
Sadie has been super interested in learning her colors lately, so I created a little memory game for her to practice a little more this week. The traditional memory rules have you flipping the cards face down, and turning them over one at a time to find matches. We played one round this way, but quickly found out that these rules are a little above Sadie's age/ability level. She required a lot of guidance and help. For the next round, we kept the cards facing up, and Sadie made matches without having to flip or remember where anything was. She enjoyed it much more that way! She has been asking to play over and over. As she gets older we'll start flipping the cards and playing by the rules. This was great color recognition practice.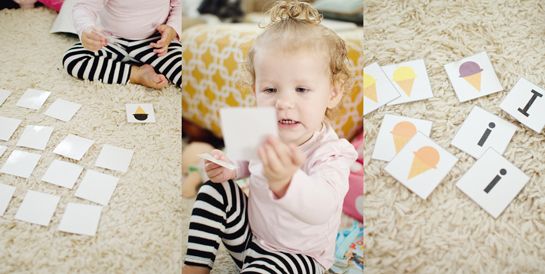 Note: I used laminating paper to laminate the printable before cutting out the cards. This step isn't necessary, but I have a destructive little monster, and wanted the game to last a long time.

Weekend Fun:
This weekend we want on a family ice cream date. We went to a place downtown called Doumar's, which is a really neat historical landmark. Abe Doumar—the founder of Doumar's—is believed to be the inventor of the waffle cone.
If you're into history, here's the story directly from their website:
"

At the 1904 World's Fair in St. Louis, Abe Doumar was struck by great inspiration. A traveling salesman, Abe spent his days selling paperweights to fairgoers. One evening, he noticed that an ice cream stand had to close when they ran out of paper dishes, the primary way of selling ice cream to go. Nearby, another salesman was cooking up waffles on single-iron waffle maker and selling his creations, garnished with a dollop of whip cream. On a whim, Abe bought a waffle, rolled it into a cone and topped it with ice cream. The result: the delicious and unforgettable combination of the warm sweetness of a fresh waffle and smooth ice cream. Abe diplomatically proposed that the ice cream vendor and waffle salesman collaborate so that the ice cream stand could continue operating. For the rest of the fair, Abe sold ice cream in the world's first waffle cones.

"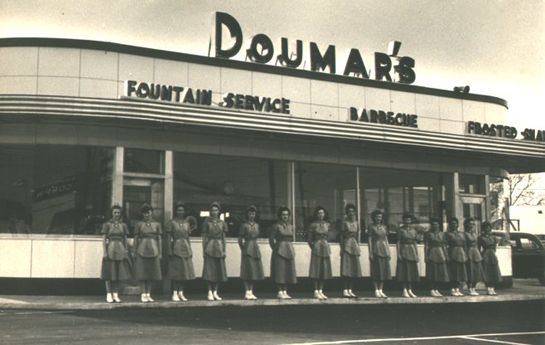 Doumar's in 1939
One of Sadie's books this week actually included Abe Doumar, which we thought was really cool!
Doumar's is still an old-fashioned drive-in, so we hung out in the car and Sadie had her very first (incredibly delicious) ice cream cone. She loved it, of course.
iPhone photos... forgot my camera. Oops!
----
Download the lesson plan
HERE
and enjoy!
Note: make sure you set up your printer to print borderless before printing the lesson plan!
If you have any questions or comments, please feel free to use the comment section below or email me at janiewhitetaylor@gmail.com. I'd love to help you make the project work for your little one!
Happy learning to you and your future nerds!