"Up through the atmosphere! Up where the air is clear! Oh, let's go fly a kite!"
I've been singing this Mary Poppins song all week, which can only mean one thing... it's kite week!
The resources we used this week were…
Songs:
Obviously, Mary Poppins'
'Let's Go Fly a Kite!'

Videos:
ABCMouse.com 'The Letter K Song'
Storybots 'K is Okay With Me'
Sesame Street: Goldmime 'K is for Kite'
Monday:
This week we found
The Most Beautiful Kite in the World
by Andrea Spalding,
Kite Flying
by Grace Lin,
Stuck
by Oliver Jeffers, and
Catch the Wind!: All About Kites
by Gail Gibbons at the library. If you couldn't tell by now, we love Gail Gibbons!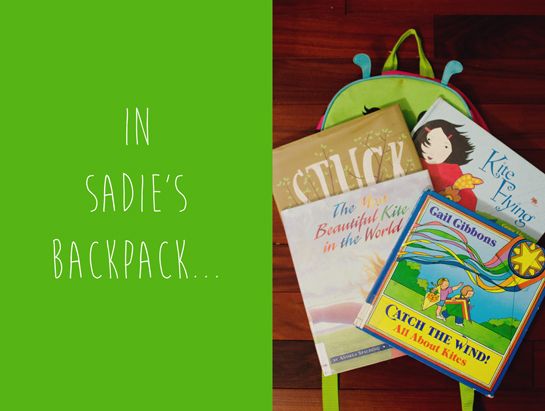 Sadie was in a hurry when we were making the alphabet book mosaic this week!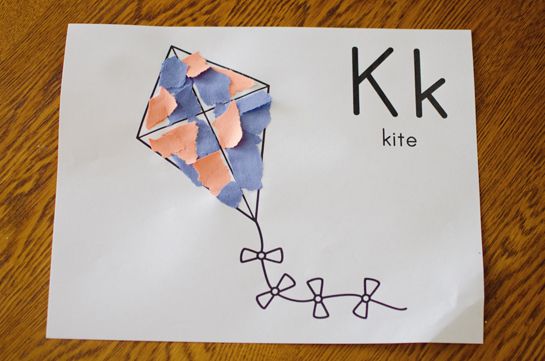 Tuesday:
On Tuesday we did a little kite art to hang on the fridge. Sadie's pretty excited about Halloween approaching, so she chose Halloween stickers. You guys can obviously decorate your kite with whatever your little one is interested in! I cut a kite shape out of orange paper, and then she colored and decorated it. Then, she glued the kite to a piece of black construction paper. I cut some leftover paper straws to fit the kite, and Sadie glued them on to look like the kite's supports. To finish, we added a ribbon, and a big, glittery K. We stuck it on the fridge where Sadie admired it all week.
Wednesday:
Sadie made a sun catcher back when we were on letter "B," and really enjoyed it, so I decided to have her make another this week. We used our beloved laminating paper and some ribbon, tissue paper, and sequins. It turned out super cute!
I made and printed a kite shape to use as a guide for the sun catcher (it's included in the lesson plan!). I stuck the kite shape under a piece of (sticky-side-up) laminating paper, then created a ribbon outline for Sadie to decorate within. She went to down with the sequins, and then we added some skewers for the kite supports. I pressed another piece of laminating paper on top of Sadie's creation, and trimmed. We added a ribbon, and hung it on our storm door. It looks so pretty in the sunlight!

Thursday:
Since Sadie is a PB&J connoisseur (read: it's basically all she'll eat), I made her a kite-shaped sandwich this week. I used pretzel sticks for the kite supports, cheese for the string, and grapes for decoration. This would've been much easier (and, let's be honest, looked better) if Sadie wasn't so insanely picky. Some twisted spaghetti noodles would be super cute as a kite string!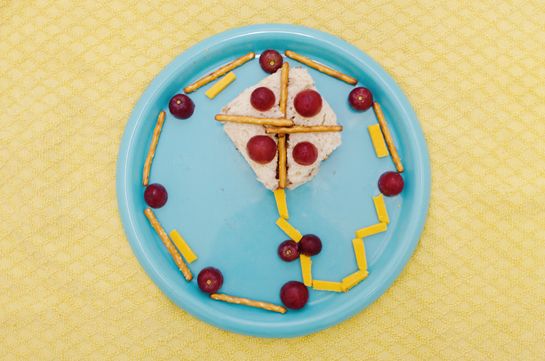 Friday:
On Friday we practiced counting with a little kite printable. To work on her counting, Sadie glued paper bows to kite strings. I like these sorts of activities, because they really require lots of interaction. These activities create opportunities for conversation and teaching. One printable like this can encourage learning opportunities and discussion about letter/number recognition, colors, and counting. It's also excellent practice for fine motor skills like placing and gluing. All of the instructions and discussion starters are included in the lesson plan!
Weekend Fun:
Flying kites is fun for everyone! There are few things more nostalgic than a picnic lunch and kite flying with family. Enjoy a fun family day this weekend!
----
Download the lesson plan
HERE
and enjoy!
Note: make sure you set up your printer to print borderless before printing the lesson plan!
If you have any questions or comments, please feel free to use the comment section below or email me at janiewhitetaylor@gmail.com. I'd love to help you make the project work for your little one!
Happy learning to you and your future nerds!