We learned all about the letter "J" and jellyfish this week!
The resources we used this week were…
Song:

Videos:
ABCMouse.com 'The Letter J Song'
Storybots 'Jump for J'
Exotic Jellyfish
Monday:
We got
Peanut Butter and Jellyfish
by Jarrett Krosoczka,
Jellyfish
by Lloyd Douglas, and
Oceans Alive: Jellyfish
by Ann Herriges from the library this week. Sadie really loved the pictures in the jellyfish books. She's totally into pink and purple lately, so she loved flipping through and looking at the pretty colors.
We worked on the jellyfish mosaic together, and talked about this week's letter.
Tuesday:
On Tuesday, Sadie made a jellyfish out of a clear plastic cup. While I sat everything up, Sadie looked through one of her jellyfish books while we talked about them. She loved the purple ones.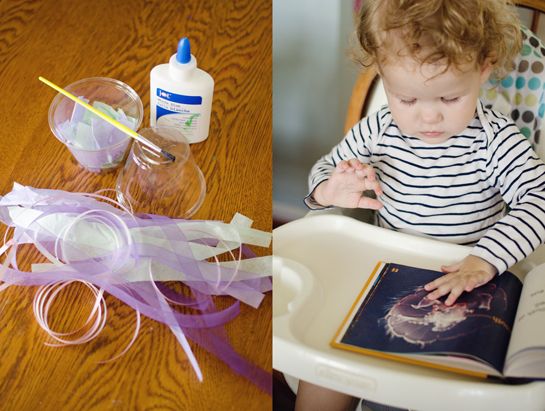 Sadie painted glue all over a plastic cup, then stuck small squares of tissue paper all over it. Once the cup was covered in tissue paper, she painted more glue on top of the tissue paper to "seal" it. Once it was dry (after nap time), we taped ribbons and strips of tissue paper onto the inside of the cup to look like the jellyfish's tentacles. I put the tape on the ribbon/tissue paper, and Sadie stuck them to the inside of the cup. After we taped all of the tentacles, Sadie glued on some googly eyes.
To hang the jellyfish, I taped a piece of ribbon to the top of the cup/jellyfish. I tied the ribbon to one of the pulls of the living room ceiling fan, but you could tape it to the ceiling or a door frame. I left it hanging all week, and Sadie loved seeing—and standing on the ottoman to twirl—it!
Wednesday:
Sadie created another jellyfish on Wednesday. We used laminating paper, sequins, and glitter to make the top of the jellyfish, and pipe cleaners as tentacles.
While we're talking about it: laminating paper is one of my favorite craft supplies. It's super cheap, and there are so many fun things you can do with it. You can also laminate craft projects or artwork that you want to save. Not to mention, one roll lasts forever!
To make the top of the jellyfish I cut a small semi-circle out of the laminating paper. I mixed glitter and sequins in a plastic bag, then I removed the backing from the laminating paper and let Sadie go to town. She always loves a project with sparkles—she is very generous with the glitter!
When she was done (or when there was a sufficient layer of glitter on everything within a 10-foot radius), we laid out a few pipe cleaners on a piece of paper. I helped Sadie push the decorated laminating paper on to the paper over the tops of the pipe cleaners. We bent the pipe cleaners to look like moving tentacles, and then I trimmed them to fit on the page. It turned out so cute, and it's still hanging on the fridge.
For our activity, I just used construction paper, and wrote the letter J on the top, but I made a printable to make things even easier for you guys. It's included in the lesson plan.
Thursday:
Thursday morning we had a "jelly"fish breakfast. Sadie loves jelly toast, so I just cut her toast into bell shapes for the jellyfish tops, and used her fruit and sausage to create the tentacles. As usual, she didn't eat the sausage (you can imagine me rolling my eyes now).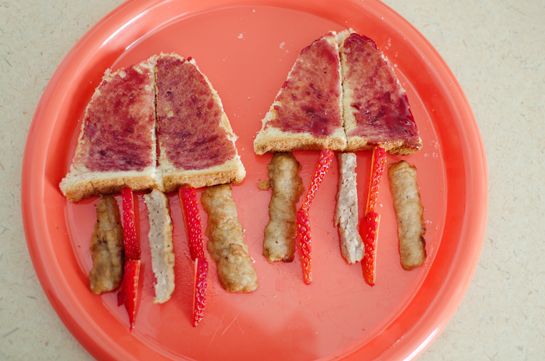 Friday:
On Friday we had some free create time. Instead of planning out an activity I just got out a bunch of different colored papers, crayons, markers, stickers, etc., and spread it on the floor in front of us. I incorporated the week's letter as we colored and created, but it was loose and free flowing. I wrote "J's" and drew jellyfish, and I made up a few silly jellyfish stories. She tried coloring in my jellyfish, and practiced saying the letter "J" and its sound. She also just colored lots and lots of purple, her new favorite thing in the world.
Weekend Fun:
We had other weekend plans, so we didn't get to see any real life jellyfish this week. We have seen them at the aquarium a few times before, and they are amazing. They're always one of Sadie's favorite exhibits. I recommend taking your family this week!
----
Download the lesson plan
HERE
and enjoy!
Note: make sure you set up your printer to print borderless before printing the lesson plan!
If you have any questions or comments, please feel free to use the comment section below or email me at janiewhitetaylor@gmail.com. I'd love to help you make the project work for your little one!
Happy learning to you and your future nerds!