F was for Frozen this week, and we were in Disney princess heaven!
The resources we used this week were…
Songs:
You can listen to the Frozen soundtrack
HERE
!
Videos:
ABCMouse.com 'The Letter F Song'
Storybots 'F is Fun'
'Let it Go' Sing-a-long
Monday:
This week we got
Frozen
by Bill Scollon, A
Sister More Like Me
and
An Amazing Snowman
by Barbara Jean Hicks, and
Big Snowman, Little Snowman
by Tish Rabe from the library. Sadie loved all of them!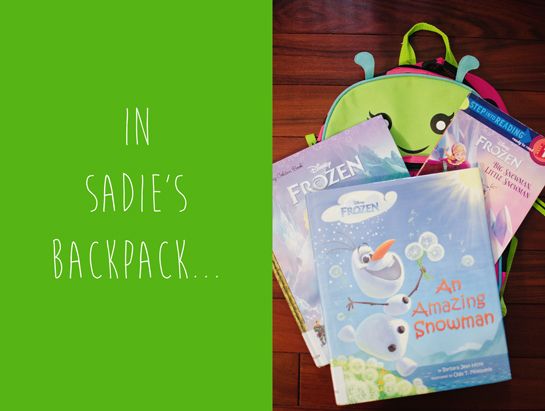 We read through our new books, and practiced saying our new letter, then did our Frozen mosaic.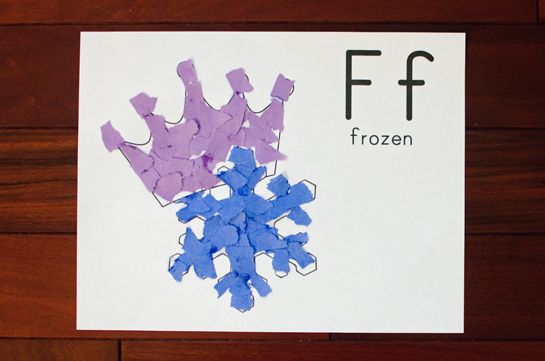 To practice our recognition of the letter "F" I created an "ice writing" activity for Sadie to use through out the week. We put clear hair gel (found at the dollar store), blue food coloring, and glitter in a plastic sandwich bag. I taped the bag closed, because I knew my crazy-curious daughter would try to open and eat the gel.
Over the course of the week, we used the bag on the storm door, on the kitchen table, and even on the wood floor.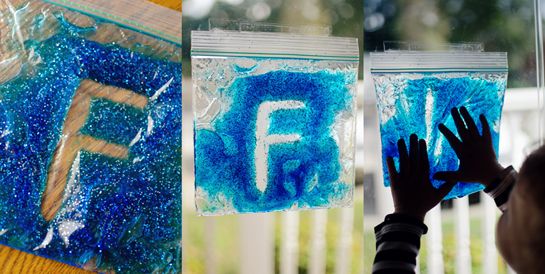 Tuesday:
On Tuesday Sadie's friend was over, and we all made princess tiaras. I found the tiara template on
firstpalette.com
, and I've included it in the lesson plan. And, don't worry, I also included a crown for the little princes! We worked together to put glittery "F's" on the center of their tiaras. Then, I threw a bunch of crayons, markers, and shiny things on the table, and let the girls go to town tricking out their tiaras. Sadie wore hers all week!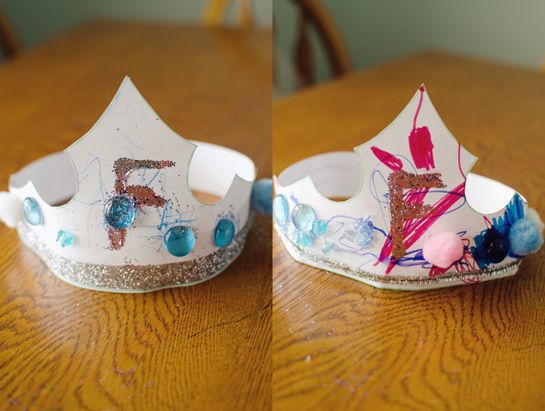 Wednesday:
We had lots of fun on Wednesday! Sadie made snow, and then we made a huge snowstorm just like Queen Elsa. The snow is super simple, and so much fun. Just mix baking soda and shaving cream in a big bowl.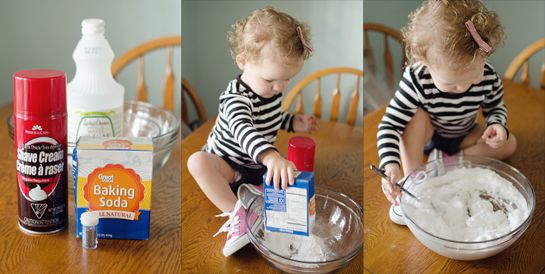 It feels cold like snow, and the texture is really similar. You can even make snowballs!
Sadie had so much fun playing in the snow. She could've done it all day. She made a huge mess, but her shrieks and smiles were so worth it.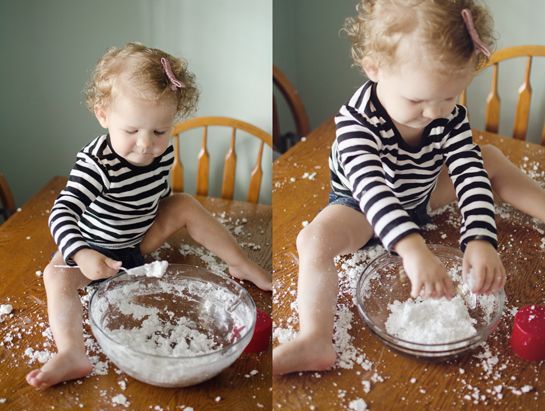 When we were done making snowballs and snowmen, we were ready for the snowstorm. Pour some vinegar over the snow, and watch the "snow" turn into Elsa-scale "snowstorm" that grows and spreads. Science, y'all.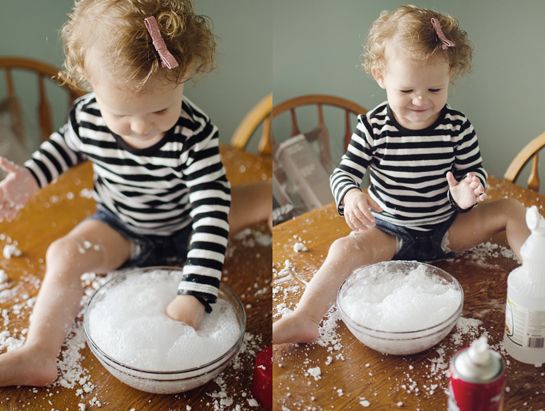 Thursday:
This week I made Frozen pancakes. I added blue food coloring and blueberries. I made a letter "F," a snowman, Elsa's glove, and a tiara. They all looked pretty crazy (apparently pancake art is hard), but they sure did taste good. I went with pancakes, because Sadie doesn't like a whole lot of variety, but there are tons of cute Frozen-themed snack ideas out there. You can get creative, or I'm sure Pinterest can hook you up too.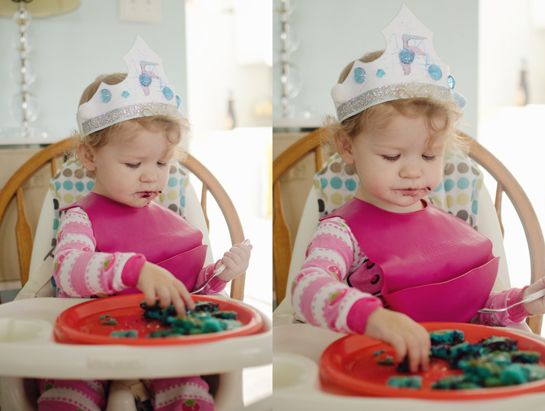 Friday:
The snow painting we did on Friday was my favorite activity for the week. I liked it so much that I kind of want to do it by myself. We spread shaving cream in a Pyrex dish and pretended it was snow. We spread some paint around in the "snow," dipped our letter "F" in the "snow," then used a spatula to squeegee the extra "snow" off. There are more detailed instructions in the lesson plan, but it was a super easy project. I think the letter turned out really pretty!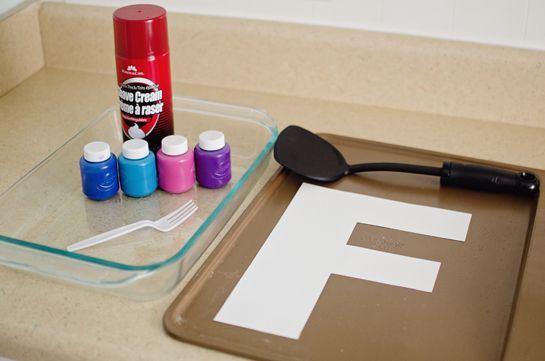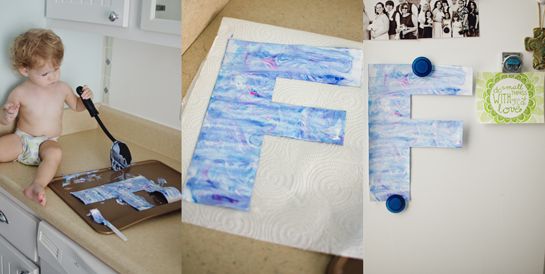 Weekend Fun:
To celebrate our "F is for Frozen" week we had a family movie and ice cream party. To amp up the Frozenness of our ice cream, I added some blue food coloring to the chocolate syrup, and threw in some chocolate candy snowballs. Then, we piled on the couch in front of Frozen, and sang along.
----
Download the lesson plan
HERE
and enjoy!
(Note: make sure you set up your printer to "borderless printing" before printing the lesson plan!)
If you have any questions or comments, please feel free to use the comment section below or email me at janiewhitetaylor@gmail.com. I'd love to help you make the project work for your little one!
Happy learning to you and your future nerds!