Sorry I'm posting this so late… we spent Labor Day at the beach!
----
This week "D is for Dinosaur!" Dinosaurs are one of Sadie's favorite animals, so this week was lots of fun!
The resources we used this week were…
Monday:
Nearly all of the books I wanted to get this week were checked out already, but we still managed to get four great dinosaur books from the library:
Digging for Dinosaurs
by Judy Waite,
Dinosaur Discoveries
by Gail Gibbons,
Dinosaurs, Dinosaurs
by Byron Barton,
Dazzle the Dinosaur
by Marcus Pfister.
Dinosaurs, Dinosaurs
was Sadie's favorite this week. She liked it so much, I'm thinking of buying it!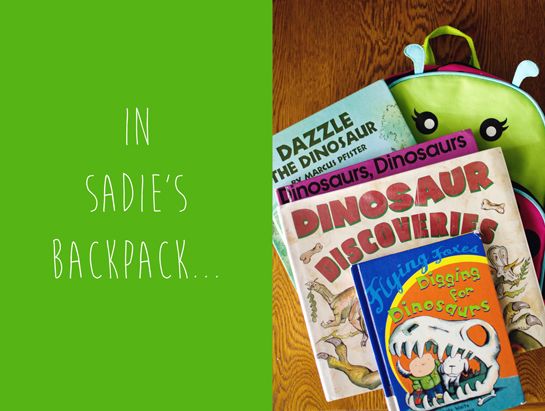 We talked about our new letter, then worked on a dinosaur mosaic for the alphabet book. I helped Sadie keep the glue stick insides the lines, and then she put the paper down. I had to help a little more this week, because the dinosaur tail and feet are kind of skinny.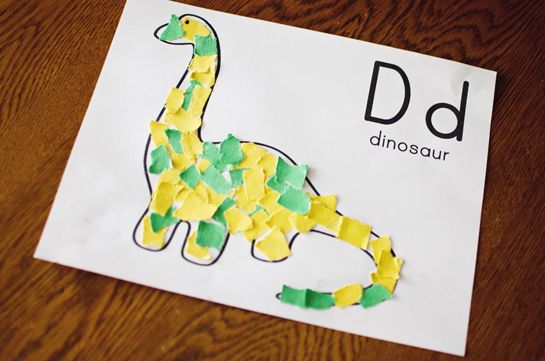 Tuesday:
On Tuesday Sadie got to paint her very own dinosaur!
While grabbing groceries Monday night, I let Sadie pick out a $1 plastic dinosaur at Walmart (she picked the diplodocus). If you don't have a Walmart, they also sell similar plastic dinosaurs at Target and most dollar stores. Before we began the project, I painted the dinosaur white with non-toxic acrylic paint (I always use Apple Barrel). I just did one quick coat, and it took me less than five minutes. It took about 20 minutes to dry. This step is definitely optional. I chose to paint it white since our dinosaur was grey, and I wanted Sadie's painting to stand out.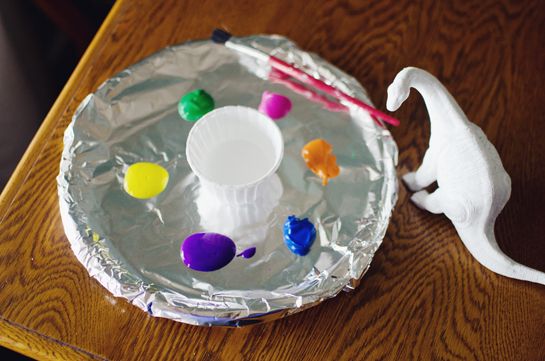 For painting the dinosaur, Sadie used Crayola washable paints. I prefer Apple Barrel, but we had Crayola paints on hand. I let Sadie pick her favorite colors, then handed over the paint, paint brush, and dinosaur and let her have at it. As she painted, we practiced saying the letter name and sound. She also practiced her dinosaur noises, which are pretty awesome.
After the paint was dry I coated the dinosaur in a thin layer of Mod Podge. Again, this step is optional. I wanted Sadie to be able to play with her dinosaur and was afraid the Crayola paint might chip off.
Sadie's been playing with her dinosaur all week!

Wednesday:
We made salt dough fossils on Wednesday. Most of you will already have what you need to make the dough—one cup of flour, one cup of salt, and half a cup of warm water. The instructions for making the dough are all written out for you on the lesson plan PDF, and trust me, it's super simple.
While we were at Walmart we also picked up a $3 package of miniature plastic dinosaurs. She chose her three favorites for this project, and we saved the rest for a different activity.
She pressed them into the dough, I helped her draw a letter "D," and we baked it at 250 degrees (I recommend 300) for 2 hours. It wasn't quite done after two hours, so next time I will turn the oven up a little.

Once the dough was fully baked, Sadie painted the fossil with one coat of brown paint. This step isn't necessary, but we wanted it to look a little more like a real fossil. I think the one coat makes it look like dirt/mud!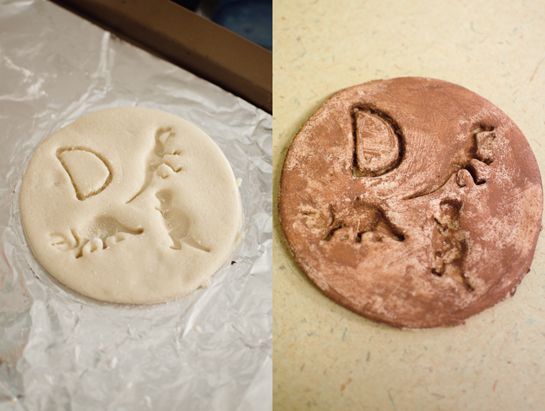 Thursday:
This week I played with Sadie's food, but she sure did enjoy it. I created a stegosaurus with her PB&J and fruit. It looked way cuter in my head, but she loved it. When I put it on her tray she gasped and laughed. So, I encourage y'all to get creative this week, and surprise those sweet kids. Use your little one's favorite foods to make a fun dino lunch, then send me a picture!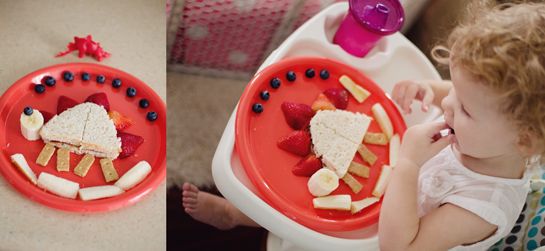 Friday:
I planned for Sadie to do some digging in her sandbox on Friday, but of course, it rained! Instead, we improvised, and dug for dinosaurs and "D's" inside. I created some "D's" out of pipe cleaners. I filled a bucket with noodles, and hid some miniature dinosaurs and "D's" inside. I gave Sadie a few "tools," and she loved digging and searching for the dinos and "D's." This activity held her attention for a long time. It would be a great activity to set up for your little one for when you're trying to cook dinner or get a few things done around the house.
Weekend Fun:
A local museum has a really cool dinosaur exhibit right now, so we picked up Sadie's cousin and headed over there to check it out this weekend. The dinosaurs were awesome, but because they were animatronic, they seriously freaked Sadie out. She wasn't much into the dinosaurs, but we had a fun day at the museum anyway.
If you don't have a local museum, rent
Walking with Dinosaurs
from your library or a nearby Redbox. It's a fun movie, and Sadie loved it. Grab some snacks, make a blanket fort, and enjoy a family movie night!
----
Download the lesson plan
HERE
and enjoy!
If you have any questions or comments, please feel free to use the comment section below or email me at janiewhitetaylor@gmail.com. I'd love to help you make the project work for your little one!
Happy learning to you and your future nerds!