This week we learned that "E is for Elephant!" We celebrated Labor Day at the beach this week, so the letter "E" got a little short-changed. We did our daily activities Tuesday-Friday, and just skipped the food activity on Thursday. The lesson plan PDF is normal though (including a "playing with our food" activity), so our short week won't mess you up!
The resources we used this week were…
Songs:
'Dance with the Elephant' by Storybots
Videos:
ABCMouse.com 'The Letter E Song'
Storybots 'Everybody has an E'
Elephant YouTube Videos
(We love this one of a baby elephant ribbon dancing, but there are tons on YouTube!)
Tuesday:
This week we got
Elephant Families
by Arthur Dorros,
Elephant's Story
by Tracey Campbell Pearson,
Eyewitness Books: Elephant
by Ian Redman, and
Elephants from Trunk
to Tail by Lucy Sackett Smith. They were all non-fiction, except
Elephant's Story
, so we learned lots about elephants this week. I love the Eyewitness Books – so much information and great pictures!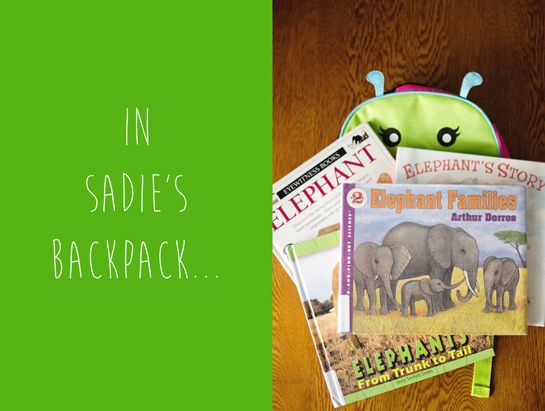 After reading through the new books and talking about this week's letter, Sadie made a mosaic elephant for her alphabet book.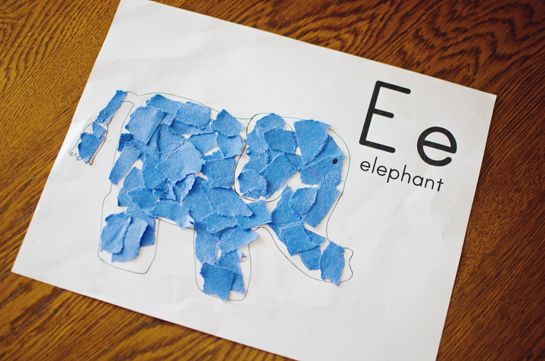 Wednesday:
On Wednesday Sadie created her own elephant with a party blower. While searching through elephant coloring pages, I found a finger puppet elephant on the Crayola website. I thought Sadie would have more fun using a party blower as a trunk, rather than her finger (plus, she has itty bitt fingers!). I found a pack of five party blowers for less than $1 at Walmart. They're also available at Target and most dollar stores.
I printed the elephant picture for Sadie, and she colored it in different shades of pink to match the party blower/trunk.
As she was coloring I wrote out letter E's in the white space around the elephant and she practiced saying the name and sound. She also had a lot of fun with elephant impressions!
When she was done coloring I cut the elephant out, including the hole in the middle. I stuck the party blower in the hole from the front so that only the rolled paper is sticking out of the elephant's face.
She has been obsessed with blowing the elephant's trunk all week!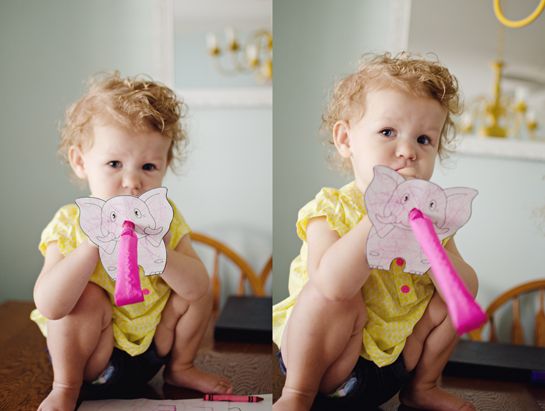 Thursday:
We made handprint elephants on Thursday. Super simple, and Sadie loves anything with paint. I did a handprint too, so we ended up with a mama and baby elephant. Once they were dry, I used a sharpie to add on elephant details like ears and tusks. I'm no artist, so they're a little funky, but I think they turned out pretty cute anyway.
My handprint was a little bit of a fail, so I had to fix it with the paintbrush. I promise my fingers aren't all crooked…
Friday:
There are detailed instructions on the lesson plan, but we had a little fun pretending to have elephant trunks on Friday. We read and talked about how elephants use their trunks, and then we grabbed some straws and pretended they were our trunks.
We blew bubbles and painted with our "trunks."
Sadie required some guidance and practice with this activity since she's used to sucking IN with her straws. I obviously didn't want her to drink the paint. We practiced blowing out of the straw until I was confident I wouldn't be needing poison control. Older kids won't need as much direction!

Weekend Fun:
This weekend we went out of town for Sadie's first amusement park adventure, so we didn't do anything elephant related. If we stayed in town, we would've visited the elephants at the zoo.
The elephant exhibit is her favorite!
Side note: I may have cried a little bit when I watched Sadie ride her first ride this weekend. I've become that mom. OMG, so proud of her for sitting on a cart moving 2mph! Don't judge me – I'm judging myself enough for both of us.
An Instagram look at Sadie's first amusement park adventure!
----
Download the lesson plan
HERE
and enjoy!
If you have any questions or comments, please feel free to use the comment section below or email me at janiewhitetaylor@gmail.com. I'd love to help you make the project work for your little one!
Happy learning to you and your future nerds!