Next up in the super simple Christmas craft line-up: stained glass! These are great for the whole family--easy enough for young toddlers, but fun for older kids. Sadie made a "stained glass" ornament and sun-catcher, but you could turn your stained glass into anything.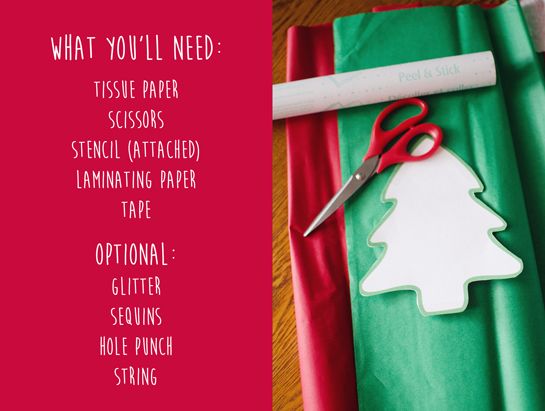 To prep, I cut squares from red, green, and white tissue paper. Then, I cut two equal pieces of laminating paper. Lastly, I cut out a couple stencils. I chose a tree and stocking (stencils attached below!), but you could make your stained glass into any shape. If your little one is good with scissors, have him or her help with the prep!
I peeled the backing from one of the sheets of laminating paper, laid it out for Sadie, and handed her a cup of tissue paper squares. I did some dishes while she worked on laying out all of the tissue paper pieces. She prefers the sprinkle and press method.
At this point you can have your child add other embellishments like sequins or glitter. We've used embellishments in other stained glass projects with awesome results, but we stuck with paper this time. Let your little one get creative!
When your child is done laying out the tissue paper squares, lay the sheet out on a flat surface. Remove the backing from the second piece of laminating paper, and place it gently over the tissue paper. Remove any air bubbles by pressing firmly outward from the center to the edges. And, you've created "stained glass!" So simple.
Turning your stained glass sheet into cute shapes is as easy as taping and cutting. Sadie helped me tape the stencils to the stained glass sheet, then I cut around the shapes to create the cutest tree and stocking.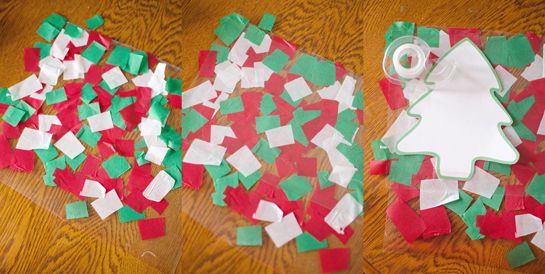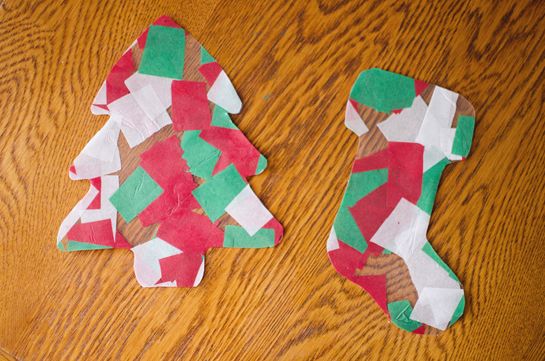 We decided to make the stocking into an ornament. I punched a hole, then added some string and sticker numbers. It looks really pretty with the Christmas lights shining through! We taped the tree on the kitchen window next to Sadie's beloved window-cling elf, and she admires it frequently.
If you're looking for a festive, but seriously simple craft, this one is it. I'm making it even easier for you by providing you with two stencils--you can download them
HERE
.
Share your stained glass projects with me by tagging me on
Instagram
... I'd love to see!
Merry Christmas, y'all!