Y'all, it's the most wonderful time of the year! Sadie and I are fully immersed in the Christmas spirit over here. The tree's up, the cocoa's warm, and the house is covered in lights.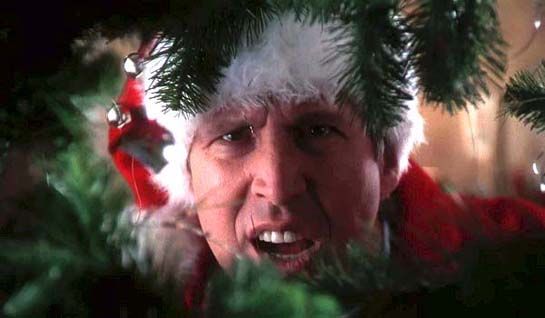 We're making the most out of our December by packing in as much Christmas as possible--movies, crafts, activities, books, etc. I've planned some super cute and simple crafts for the month, and I'm excited to try them out with Sadie. I'll post them all here so y'all can do them with me!
Our first craft of the month was a paper plate Christmas tree! This one was incredibly easy, and Sadie really enjoyed it. Here's how we did it...
I set Sadie up with some brushes, green paint, and had her paint a paper plate (I had to help a bit to get the paint in some of the grooves). When the plate was dry, I used a pencil to divide the plate into three equal-ish parts. The easiest way to do this is just to draw a peace sign (shout out to my 5th grade self!). I cut the plate along the lines, then cut a small rectangle out of a piece of brown construction paper.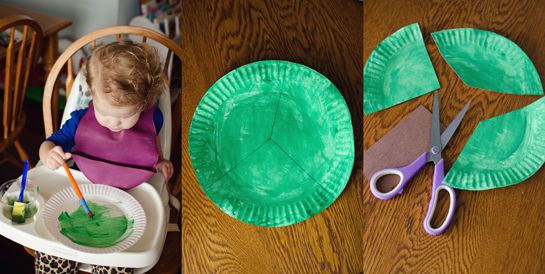 After everything was cut, I let Sadie glue the three pieces of plate together to create the tree. Just put a drop of glue on the point of two of the pieces, then layer all three pieces so that the ridges on each of the plates are showing along the bottom. We glued the brown construction paper to the very bottom to look like the tree's trunk.
When the glue was dry, I gave Sadie her Christmas sticker book and let her decorate her little heart out. We used stickers from our beloved One Spot (because Sadie's sticker-obsessed), but finger prints, paint, or bingo markers would also create awesome "ornaments."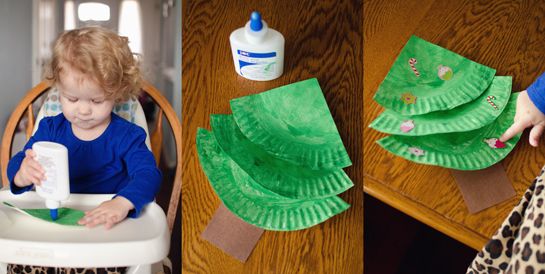 To finish up our tree, I bent a pipe cleaner into a star, and glued it to the top. If you don't have any pipe cleaners, paper would also do the trick.
We hung Sadie's tree above her book shelf to add a little cheer to her play area. We're both pretty excited about how cute it turned out!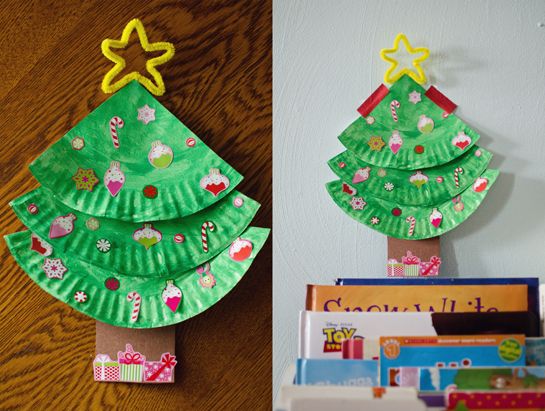 If you and your little make a tree, tag me on Instagram at
janiewtaylor
--I want to see!
I've got a couple more simple Christmas craft ideas up my sleeve for this week, so keep an eye out!
Merry Christmas, y'all!