I have been so excited for Sadie to turn 18 months, because I knew that's when I wanted to start introducing some educational activities into our day. I don't know if it's my degree in education or that I'm a huge nerd, but I find lesson planning super fun. We have done a few projects and activities over the last few months, but I think that 18 months is the sweet spot for little toddler brains. They turn into little sponges, and it's so fun to watch them soak up everything.
I have been thinking about what I wanted to do with her that would be stimulating, but fun and low-pressure. I always really enjoyed learning (told you, huge nerd), and I would love for Sadie to get excited about learning too. I wanted to create a loose curriculum that wouldn't require any sort of evaluation. My goal was to incorporate a fun activity each day that would be informally instructional. And, if you're at home with your toddler or preschooler for any extended period throughout the day, you know that having a few planned activities can preserve your sanity. Because I mean, y'all, if I have to watch one more episode of Peppa Pig I might lose it.
Sadie's love for the alphabet song inspired me to start a letter of the week project. We started last week, and it has been an awesome success! She enjoyed all of the activities, and really got into the books we found. I'm so excited to share it with y'all.
Just a note: I think 15 months is the earliest I would start the project, but the age range I suggest would be 18-36 months. The project will act more as an introduction to the alphabet for the younger crowd—that's where we are. There's no pressure for Sadie to write the letters or to know their sounds. The goal here is to establish a basic knowledge of the alphabet, and create an excitement for learning. You can encourage your young toddler to say the letter of the week, find it in a group of letters, and use words that start with that letter. With older toddlers and preschoolers, the project can be expanded to introduce writing letters and learning letter sounds. When introducing each letter, allow your older child to practice tracing. Instead of simply saying the letter's name when doing activities, your older toddler/preschooler can practice making the letter's sound.
A little perk: this project is an interesting way for your little ones to learn about letters, but it also introduces some fun new things about some of your kids' favorite stuff. Sadie loves apples, and got to learn all about apple trees, harvesting, and apple foods this week. She was totally into it.
This week was "A is for Apple!" and here's what we did:
While I planned an activity for each day, I also had resources to use throughout the day to reiterate what she was learning. While we were playing with her blocks we might sing a song about apples. When she started turning into Lady Fussypants before bedtime, we watched a couple videos. If you're opposed to screen time, you don't have to use the videos, but they're very short and Sadie really enjoyed them.
I found the apple songs here:
Alphabet Soup
Everything Preschool
These were Sadie's favorite videos:
ABCmouse.com 'The Letter A Song'
Storybots 'Hooray for A'
Gary Kazoo 'I Like Apples'
Sadie especially liked "I Like Apples" by Gary Kazoo. It made her laugh all 1,000 times we watched it. By the end of the week she was saying "sauuuuuce" right along with him. You might love me or hate me for introducing this to you.
Monday: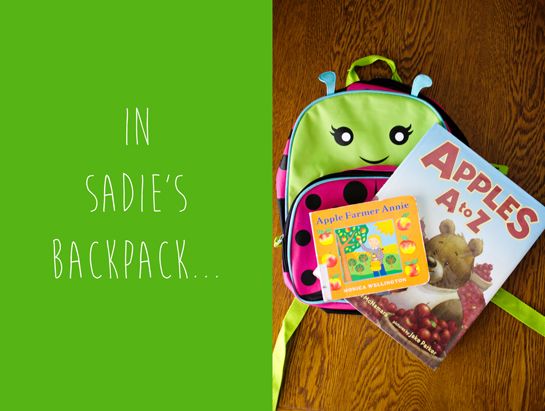 We started the week at the library finding some books about apples. We chose Apples A to Z by Margaret McNamara and Apple Farmer Annie by Monica Wellington. Both were really cute and had lots of great information, but Sadie especially loved Apples A to Z. The caterpillar page made her laugh out loud (she's easy to please). There are thousands of great apple books out there—browse your library's catalog.
When we got home we read through her books and talked about the letter of the week. I pointed out A's and a's. We also spent some time coloring together on the floor. While she doodled, I wrote A's and talked about them: "This is the letter 'A' – it is the first letter of the alphabet. It sounds like 'a.' Like apple!" I encouraged her to say the letter's name. She's not very verbal, so had a hard time saying "A" on the first day. That's okay. We're low pressure here.
I wanted Sadie to have a place where she would be able to regularly see the new letter she is working on, as well as look back through previous weeks' letters. We made a book out of page protectors that we will add to each week. I did all of the stapling and gluing, but left the decorating to my girl. Sadie only wanted to color her cover page, but your kid can get as funky as he/she wants. If you have a large wall, you could hang the letters up and skip the book.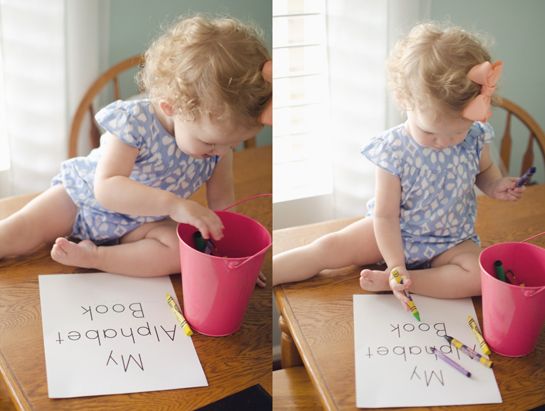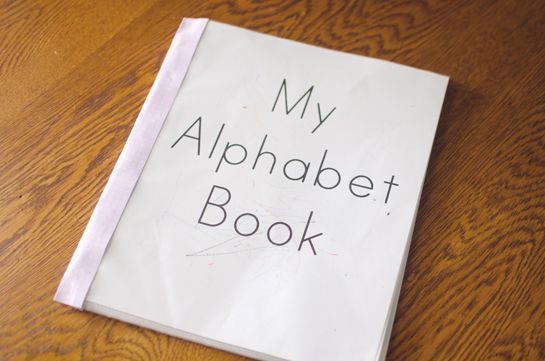 Tuesday:
On Tuesday we created the first page of Sadie's alphabet book. Each week we will create a mosaic that fits our theme. Sadie ripped and glued red construction paper to make her mosaic apple. We put the page in her new book.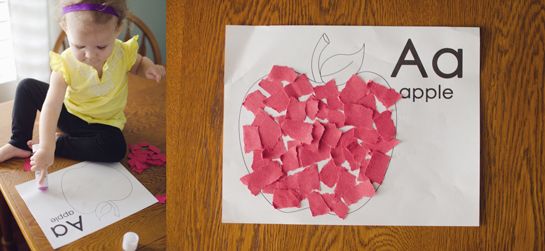 Wednesday:
We painted with apples on Wednesday. I think everyone has done this at some point. I cut two apples in half, squirted some washable paint on a plate, and let her go to town. She was in heaven. We practiced saying the letter's name during this activity.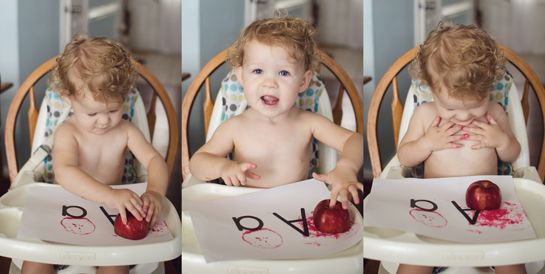 Thursday:
On Thursday we played with our food. I gave her apple slices, peanut butter, and raisins. I gave her creative control to decorate her apples like she wanted. For other kids, I would definitely include more options for decorating like granola, oats, etc., but my child doesn't like food.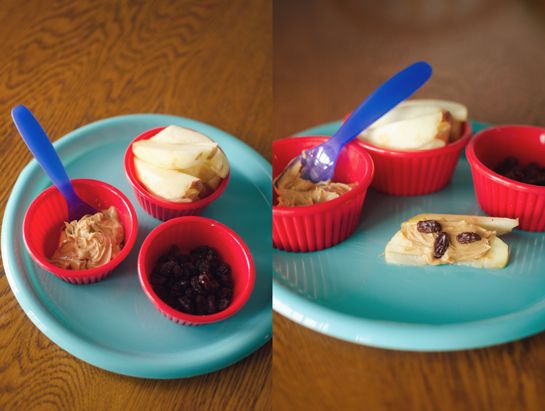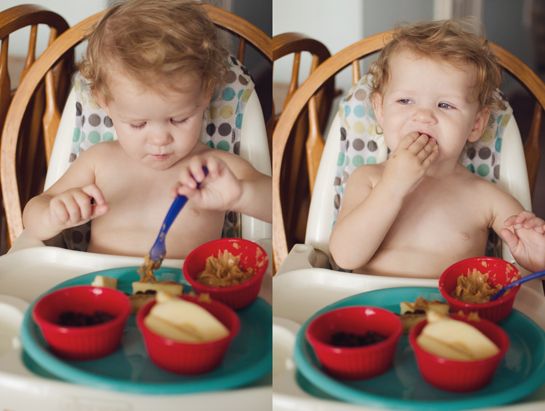 Friday:
I was planning to end the week with a sensory bucket, but Sadie got sick. The plan was to fill a bucket with rice, and bury A's of different textures for Sadie to find. I think it's something she'd really enjoy, so we'll try again another week.
Weekend Fun:
Every weekend I want to plan an extra-fun activity that will be an extension of what we were learning about and doing the previous week. Of course, some weekends we will have plans or our extra-fun activity will happen during the week, but I want to try to include it as often as possible. We had plans to go to an apple orchard this weekend, but Sadie had a fever. Life happens. We'll try that again another time.
----
Even though it was a short week, and the activities we did were pretty basic, I think the first week was awesome. I haven't set any sort of expectations or evaluations, but by the end of the week she was able to identify the "A" in a group of letters and she could say the letters name about 50% of the time. Most importantly, it was obvious that Sadie really enjoyed learning this week. I call that a win!
Because I love you and I want your sweet littles to join in on the learning fun, I created a PDF with this week's lesson plans. It also includes the three documents you'll need for the week's activities. The lessons plans are more detailed than what I've gone over here and include a list of the supplies you'll need. I'm making this easy for you!
Click here to download the lesson plan PDF!
If you decide to start the project, please let me know! I'd love to follow along with you. Tag me on Instagram or email pictures to janiewhitetaylor@gmail.com!
If you have any questions or comments, please feel free to use the comment section below or email me. I'd love to help you make the project work for your little one!
Happy learning to you and your future nerds!