Quick note: thank you so much for sending me pictures and updates! I am seriously loving seeing your little ones enjoying the activities.
----
This week we learned that "C is for Cookie," and I'm pretty sure that my little Cookie Monster has never been happier.
The resources we used this week were…
Songs:
Cookie Dance by Chip Chocolate
(This song is ridiculous, but Sadie loved dancing to it. It will be stuck in your head all week. I'm sorry.)
Videos:
ABCMouse 'The Letter C Song'
Storybots 'Crazy for C'
Cookie Monster 'C is for Cookie'

And, here's what we did...

Monday:
We got three books from the library this week:
Cookies: Bite Sized Lessons
by Amy Krouse Rosenthal,
All in Just One Cookie
by Susan E Goodman, and
Who Put the Cookies in the Cookie Jar
by George Shannon.
Who Put the Cookies in the Cookie Jar
is great – definitely my favorite from the week. The book provides a great opportunity to emphasize with your little ones that the world is a big place, and we're only a small part of it.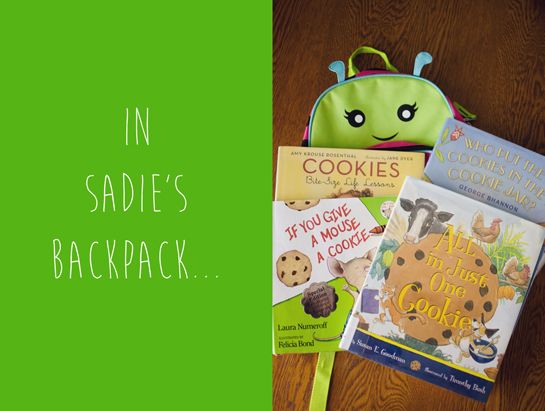 We also read
If You Give a Mouse a Cookie
this week. We own all of Laura Numeroff's books. They're so cute!
After a little introduction to our new letter, Sadie made her construction paper mosaic cookie, and added it to her alphabet book.
Tuesday:
After Sadie went to bed Monday night, I got to work making a Cookie Monster game for her. I used construction paper to create a Cookie Monster face and cookies. I wrote the letters we've learned so far on the cookies: A, B, and C. I cut out Cookie Monster's mouth, and taped a sandwich bag to the back.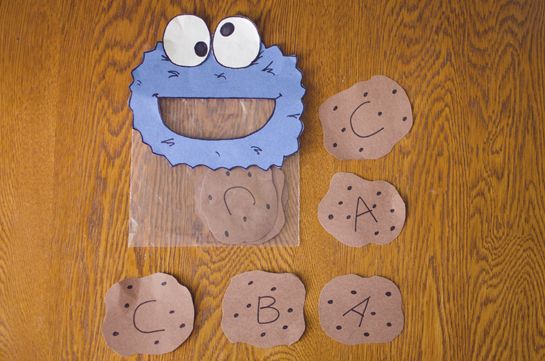 When Sadie woke up we played "Feeding Cookie Monster." I arranged all of the cookies on the floor, letter side up, and went over the rules: Cookie Monster only likes to eat letter "C" cookies. I told her that he thinks "A" and "B" cookies are yucky, and only wants the yummy, yummy "C" cookies. I opened the sandwich bag and held Cookie Monster up, so that she could "feed" him. I used my best (read: terrible) Cookie Monster impression to remind her that "Cookie Monster no like 'B' cookie… yuck!" As she fed Cookie Monster the cookies, they would be collected in the sandwich bag.
Sadie's into all kinds of bags, and loves filling them up with stuff, so this game was a hit. She wanted to play over and over, and even played by herself. She played "Feeding Cookie Monster" every day this week!
I realize a lot of y'all don't have the time (or desire!) to try to make a construction paper Cookie Monster, so I put together a super easy printable. Just print and follow the instructions. All you'll need is some scissors, tape, and a sandwich bag.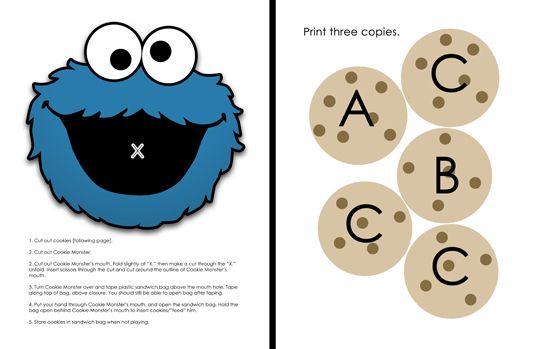 Wednesday:
Wednesday's activity was super simple and quick, but fun. I wrote letters on a piece of construction paper, gave Sadie some mini Oreo's, and had her use the cookies to cover up only the C's. I let her eat some of the Oreo's as we played, because otherwise she would've been a hot, whiny mess. We're working on patience and listening skills—this activity was great practice! I had Sadie practice saying the letter name and sound as we covered up the C's, and then again as we took the cookies off at the end of the game.
Thursday:
This week Sadie played with her food by decorating some sugar cookies. To make my life easier, I bought sugar cookies instead of making them. If you're into baking, feel free to make those bad boys. I used store-bought, bagged decorator's icing to write letter C's on a few cookies (older kids can totally do this step). Before decorating, I asked her to say the letter and we practiced saying the letter sound and "cookie." Then, I just let her go to town with the sprinkles. After decorating, she devoured those cookies like a champ (even though she licked them all, I didn't let her eat all four!).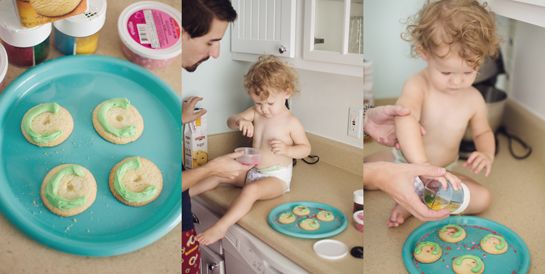 Friday:
I created a worksheet to do on Friday, but we didn't get around to it. The worksheet is a little above Sadie's skill-level, but with help and guidance it's totally doable. I had planned to try it with her, but life happened. I would say the worksheet is most appropriate for 24 months and up, but definitely try it with your little ones. You can find it attached to the lesson plan.
Dan was home Friday, so we made some big "C-shaped" chocolate chip cookies. Sadie loves making cookies, so this was a fun activity to do as a family. Our "C-shaped" cookies turned out a little funky, so my advice: spread your dough thin and make sure the open area in the "C" is big!

Weekend Fun:
Since Sadie loves making cookies and new friends, I wanted to put her excitement to good use. I planned to let her make cookies for someone who needs a smile, and I decided on our local Ronald McDonald House.
If you're not familiar with the Ronald McDonald House Charities, they do the amazingly generous work of providing free housing and other comforts to the families of sick children. The beautiful people of the RMHC help to "lessen the burden for nearly nine million families each and every year."
Read more about RMHC, and find your local chapter here:
http://www.rmhc.org/
.
For food safety reasons, we had to do our baking at the house, but I'm glad we did. It was lovely to meet some of the wonderful families staying there. I'm so thankful that my beautiful mama could join us, because there were sixteen families staying at the house this week!
Choose a charity or person that is meaningful to you, and do something nice this week! It's never too early to teach your little one to share kindness and love. Cookies make everyone smile.
----
Download the lesson plan
HERE
and enjoy!
If you have any questions or comments, please feel free to use the comment section below or email me at
janiewhitetaylor@gmail.com
. Send me pictures of your activities this week! I can't wait to hear from you!
Happy learning to you and your future nerds!